CURRENT NEWS - 1st FEBRUARY 2018
---
From 31 January 2018, if you are making a claim for or already getting Universal Credit (UC) in an area where you manage your claim online, you can ask:  •for your UC to be paid twice monthly rather than monthly •to have the housing costs in your UC award paid directly to your landlord.
These are called the Scottish UC choices. They were first introduced on 4 October 2017 and were only available to people who made a claim for UC on or after that date and who managed their claim online. These areas are also known as full service areas.
The Scottish UC choices are now being extended to anyone who claimed UC before 4 October 2017 in a full service area. They are also being extended to anyone who claimed before 4 October 2017 in a live service area when they transfer to a full service area.
If you were claiming UC before 4 October 2017 & you are in a full service area, you can ask to set up one or both of the Scottish UC choices through your online account, by phoning a DWP service centre or by making the request to a work coach. Contact WDCAB if you feel need assistance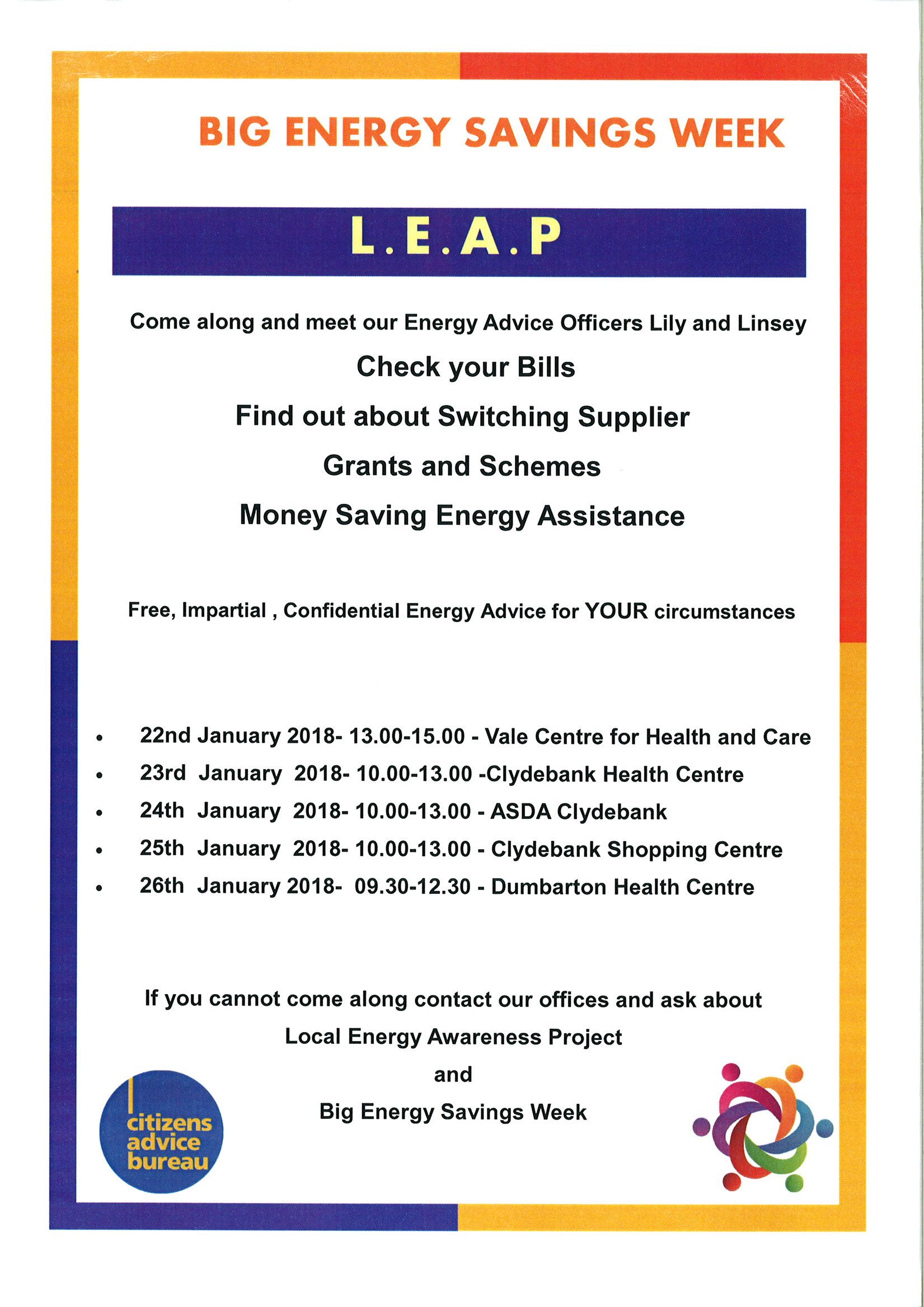 ---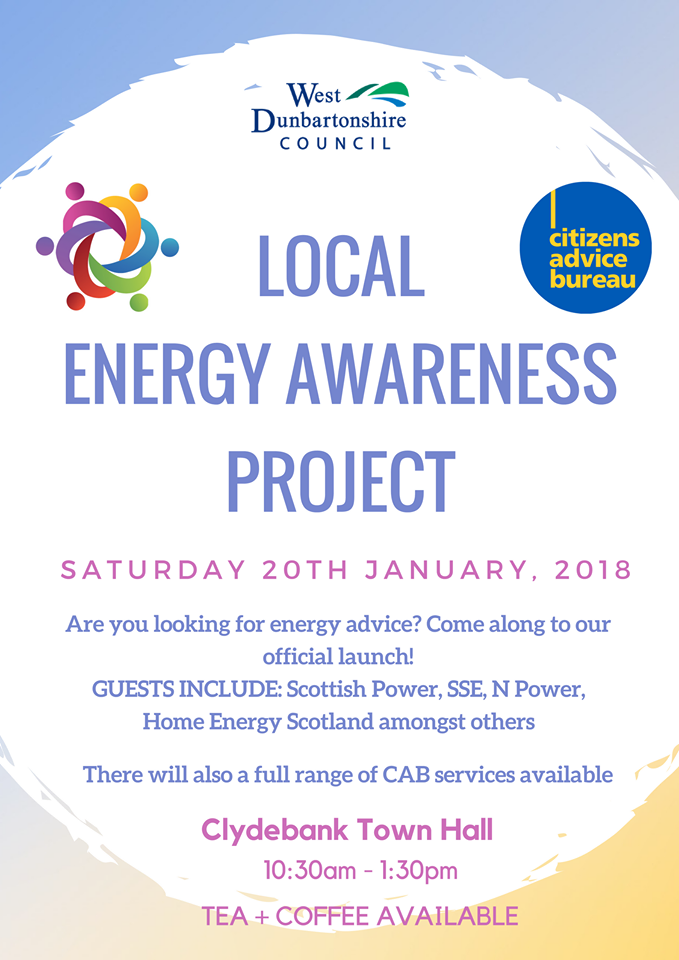 ---
HOLIDAY CLOSING DATES
Our offices will all
close

on Friday 22nd December
2017 at
1pm
 and
reopen

on Wednesday 3rd January
2018 - This means that we won't be operating any service between those times and will not be able to answer any enquiries made.
---
UNIVERSAL CREDIT UPDATE
Today Citizens Advice Scotland has joined forces with twenty four charities and individuals to call for a halt to the accelerated roll out of Universal Credit in October.
Together these organisations represent a broad cross section of Scotland's third sector, and offer services and support to those affected by the implementation of this new benefit.
Read the letter published in The Times today.
31st August 2017
Dear Sir,
The UK Government decided to phase the rollout of Universal Credit (UC) on a 'test and learn' basis, prior to an accelerated rollout beginning in October this year. This was a sensible approach to a very major change.
In five years UC will be claimed by over 650,000 households in Scotland. In principle, it is a good idea which should make life easier for both the claimant and the delivery agencies alike. However, having seen how UC has worked so far, it is clear that it is leaving thousands of people struggling to make ends meet. The flaws include a six week waiting period between a person's claim and their initial payment. Another issue is that UC is an entirely online system, yet our evidence is that many applicants don't have access to computers or the skills to use them.
Together, we believe the Government must halt the rollout of the benefit so that these and other flaws can be fixed before they harm any more people. This will require serious changes, not just minor adjustments. Fundamentally, we need a benefits system that supports those in need, and it is in that spirit that we are calling to halt and fix UC.
Yours faithfully,
Ewan Aitken, CEO, Cyrenians; Jackie Brock, CEO, Children in Scotland; Graeme Brown, Director, Shelter Scotland; Yvette Burgess, Director, Housing Support Enabling Unit; Claire Cairns, Network Co-ordinator, Coalition of Carers in Scotland; Annie Gunner Logan, Director, Coalition of Care and Support Providers; Neil Henery, Director, Camphill Scotland; Delia Henry, Chair, Disability Agenda Scotland; Peter Kelly, Director, The Poverty Alliance; Jamie Livingstone, Director, Oxfam Scotland; Rory Mair, Chair, Citizens Advice Scotland; Richard Meade, Head of Policy and Public Affairs, Marie Curie Scotland; Robin McAlpine, Director, Common Weal; Suzanne Munday, CEO, Minority Ethnic Carers of People Project; Satwat Rehman, Director, One Parent Families Scotland; Emma Ritch, Executive Director, Engender; Pete Ritchie, Director, Nourish Scotland; Bill Scott, Director of Policy, Inclusion Scotland; Theresa Shearer, CEO, ENABLE Scotland; Martin Sime, CEO, Scottish Council for Voluntary Organisations; Sally Thomas, CEO, Scottish Federation of Housing Associations; George Valiotis, CEO, HIV Scotland; Dr David Webster, Glasgow University; Meg Wright, Director, Carers Trust Scotland; Gavin Yates, CEO, Homeless Action Scotland.
---
 CLYDEBANK OFFICE - NO DROP-IN SERVICE ON MONDAYS
From the 4th September, our Clydebank office will not be open as a drop-in service on Mondays - Please accept our apologies for any inconvenience this may cause.
This change will allow us to offer a greater range of appointment options at our Clydebank office.
We would ask that you respect our opening hours  and would advise that, unless you already have an appointment, you will not be seen outwith these times.
---
VOLUNTEER RECRUITMENT FOR OUR CLYDEBANK AND ALEXANDRIA OFFICES!
Your CAB needs you! 
West Dunbartonshire CAB (CLYDEBANK AND ALEXANDRIA OFFICES ONLY) is looking to recruit volunteers to train as advisers for our new training block commencing later this year. Volunteering with CAB is interesting, friendly and very worthwhile. Full training and support is given so no formal qualifications or experience are required.
...
What does it take to be an Advisor? All sorts of people volunteer as CAB advisors and provide free, confidential, independent and impartial advice. There are some things Bureau Advisors have in common though.
CAB Advisors:-
• Are good listeners • Work well in teams • Are open minded and don't judge people or their circumstances • Enjoy helping all kinds of people • Are prepared to commit to an average of six hours each week • Have some skills to offer, including I.T. skills, • Feel good about the difference they make
Our next training programme starts 31st August 2017 and interviews commence at the beginning of August.
To apply, go to http://www.wdcab.co.uk/volunteer and fill in the application form or contact Natalie@wdcab.co.uk - 01389 717174 for an application form.
---
 Closure of Alexandria Jobcentre Plus
Please see our response to the announced closure of Alexandria Jobcentre Plus in the Lennox Herald newspaper.
---
Citizens Advice calls for halt to Universal Credit
West Dunbartonshire CAB fully supports Citizens Advice Scotland's call to stop the roll-out of Universal Credit
---
Over half of Scots sometimes run out of money before payday
Over half of Scots sometimes run out of money before payday
More than half of Scots (51%) say they occasionally run out of money before payday, with 15% saying they do so 'most of the time' or 'always.'
The figures are part of a major new report published today (Wednesday) by Citizens Advice Scotland which aims to take a snapshot of the financial realities facing Scots in 2017, and in particular the relationship people have with debt.
Other key findings from the research, which was conducted by Ipsos Mori, include:
• 55% of Scots would be unable to pay a sudden bill of £100 without borrowing, using savings or cutting back on essentials. The equivalent figure for a £250 bill is 69%, and for £1,000 is 83%.
• Only 42% of Scots feel they understand their rights in relation to debt.
• Older people and those with full-time jobs are less likely to be in debt, but many Scots who are in work report that they often need to borrow to supplement their income.
• Those who are in work are just as likely to be refused credit as those not in work.
Publishing the report, 'Living from one payday to the next,' CAS policy manager Keith Dryburgh says,
"This study shows that for most Scots debt is just a fact of life. It also shows that debt is not just an issue for people who are on low incomes. Many working Scots on reasonable salaries occasionally need to borrow money to get them from one payday to the next.
"While many of these people would not regard this as a crisis situation, our research also finds that many people are vulnerable to financial shocks, like being unable to pay a sudden bill without getting into debt or using savings. And more than half of Scots are not familiar with their rights as debt consumers.
"Given that debt is so pervasive in Scotland, we are keen to make sure that people know their rights in relation to debt, and also know what options they have if they want to manage their finances better. We have information and tools on our website that will help anyone do this, and free impartial advice is also available at every local CAB."
---
DOWNLOAD RESOURCES:
---
 WDCAB Financial Statements for year ended 31st March 2017
WDCAB Financial Statements for year ended 31st March 2015
---
---
---